Once you get your first cluster connected to Magalix, we start scanning your clusters' entities evaluate them against policies defined in your account, and generate violations for any entity that doesn't comply with these policies.
Once your first cluster is scanned and violations are ready, you will be directed to Magalix Home Dashboard where you can start navigating our dashboards and get more insights about your clusters' security and compliance status.
Note: You will still see the welcome page with the cluster connection command till we scan your first cluster, which usually takes 8 - 15 mins, after that, you will be redirected to the Home Dashboard.
Below are the main dashboards you will see once we start generating violations on your clusters:
Home Dashboard
The home dashboard will provide you with a bird-eye view of how your K8s clusters look like from security and compliance perspectives.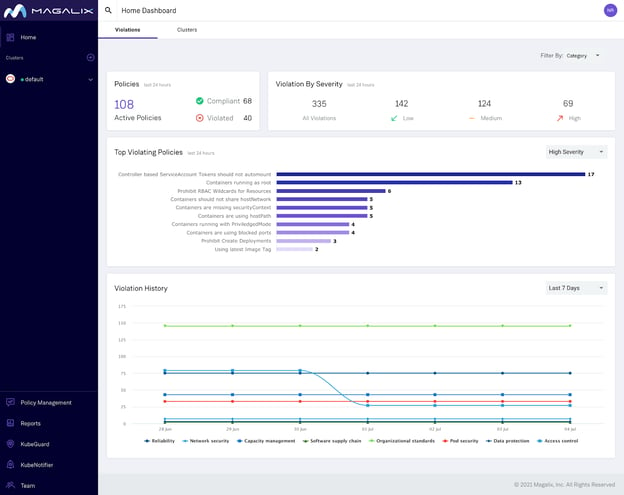 Cluster Violations Summary
From the navigation menu on the left, you can click on any connected cluster and you will be able to access the cluster violations summary dashboard. This dashboard will give information about all the violated policies on the selected cluster and how many violating entities are there per policy.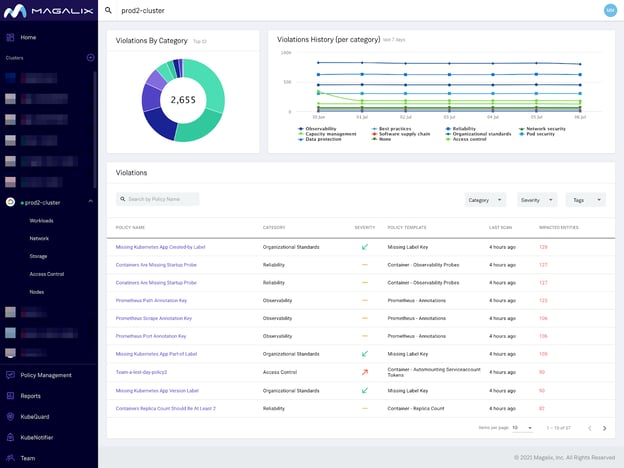 Cluster Policy Violations
From your cluster violations summary, you can drill down to each policy and view all the violating entities in the selected cluster.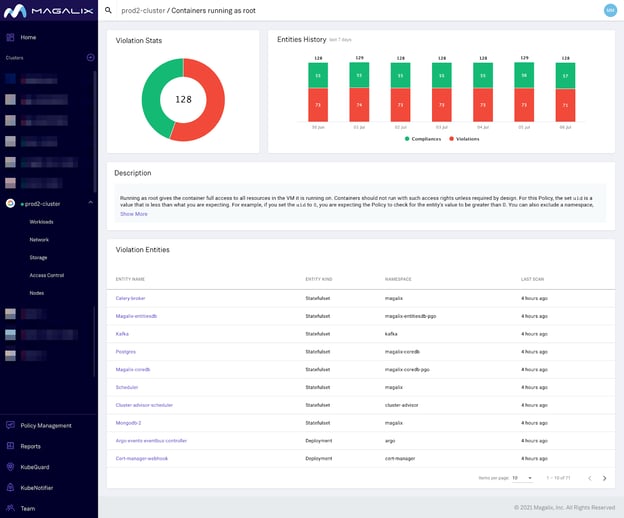 Run-Time Violation Details
Any violation consists of a violating entity and a violated policy. When clicking on any violating entity, you can get to the violation details page. Here you can see more data about the policy being violated (category, severity, description, how to resolve, .etc) and the entity violating this policy alongside the evidence of why this entity is reported as violating entity.